Pleasant cooling, heating and properly directed airflow – these parameters can be controlled manually with a remote control, but a Wi-Fi remote control works much better. Find out what you can gain by doing so.
Why install air conditioning at home?
On hot days air conditioning brings pleasant cooling. Its operation is very simple – it takes air from the environment and lowers its temperature using a cooling agent and special mechanisms. The air also passes through a filter.
Air conditioning can be found in shopping malls, smaller stores, restaurants and offices. More and more people are also deciding to install it in their home or apartment, especially if it is located in the attic or is exposed to sunlight for many hours, making it strongly heated.
The undoubted advantage of using this device is to ensure thermal comfort, which is essential for proper functioning, relaxation and work, especially since many people do their work remotely and need appropriate conditions for this. Hot weather is also dangerous for people struggling with cardiac or respiratory problems.
Of course, air conditioning is not only cooling, but also heating. It is worth using this function in the transitional season, when we do not yet have constant heating on, but it is useful to raise the temperature for example after an evening bath. It is also worth to be aware that thanks to filters, the air which is released by an air-conditioner is purified and ionized – it kills harmful microorganisms and viruses. This is also an excellent solution for people living on high floors, who for various reasons are afraid to open their windows wide.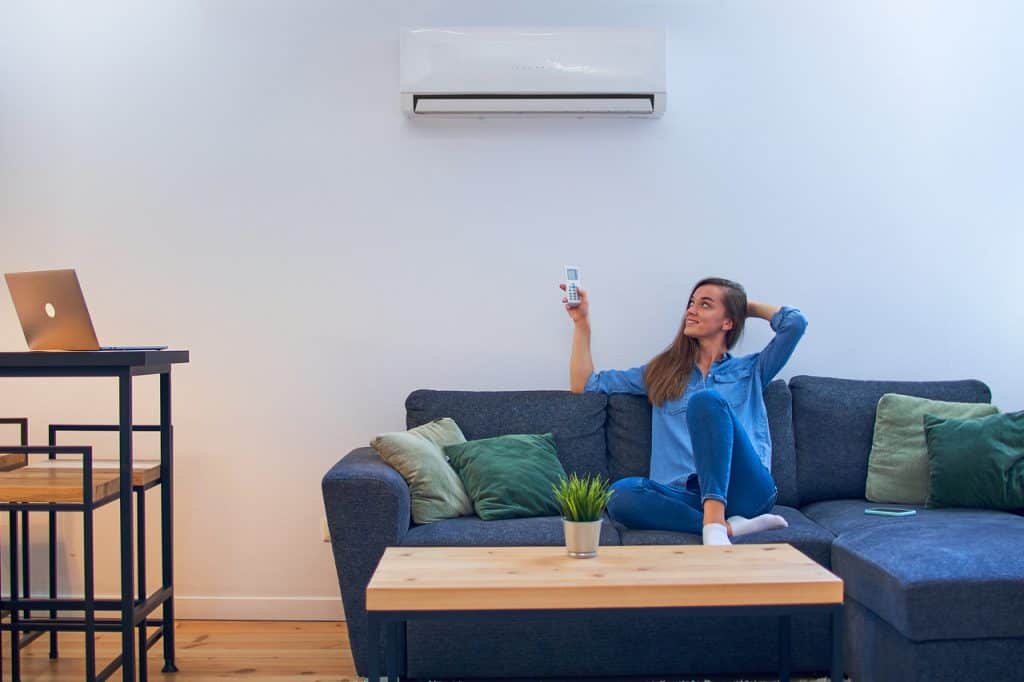 Controlling air-conditioning with Wi-Fi – how does it work?
The advantages of air conditioning speak for themselves, but it is worth being aware that air conditioning does not always work for us. The problem is, first of all, the fluctuation of temperatures when we move to non-air-conditioned rooms. It is therefore necessary to sensibly adjust the temperature and change it according to current needs. Adjusting the airflow may also be a problem. In any case, it should not be directed directly at the occupants of the house, nor should it be too intense.
All these parameters can be set manually, but there is a solution whose popularity is growing every year. We are talking about the remote control of air conditioning via Wi-Fi. With the appropriate application, we can set everything from a smartphone or tablet – both being at home and being far away. The built-in Wi-Fi module works with applications for Android, iOS, or the Apple operating system.
What functions can be controlled remotely?
Controlling the air conditioner via Wi-Fi varies from model to model. We can turn the device on and off, set the selected temperature and air speed and direction (by changing the degree of inclination of the louvers), as well as the mode of operation (automatic, cooling, heating, dehumidification, ventilation and so on). Sometimes there is an option to control more than one device.
The app will also be helpful in other ways – it will notify you of any errors and malfunctions, and even the average electricity consumption of the air conditioner, which affects your electricity bill.
>> See also: How to humidify the air at home?
Remote control of this system is very convenient and intuitive, ideal for people who appreciate modern solutions and technology. With it we can cool the apartment before returning home and at the same time monitor the operation of the air conditioner – whether we accidentally forgot to turn it off before leaving. Controlling air-conditioning via Wi-Fi is one of the solutions thanks to which we create a smart home adapted to our lifestyle and preferences